June 17 - 18, 2017
Pet Photos
For pets, kids, whole family. Tons of props, costumes, stufed animals such as Elmo, frogs, ET, a dragon, teddy bears & a stuffed horse of course. Straight Shot's Shawn Ward & Scott will be here Saturday noon - 2 p.m.
Also have raffle of 20 plus new items. Mini sale of new and nets to new items in great condition. everything $2.00 and in perfect condition.

At 4632 SW Elevation Lane, Topeka - 1 block east of 47th & Wanamaker.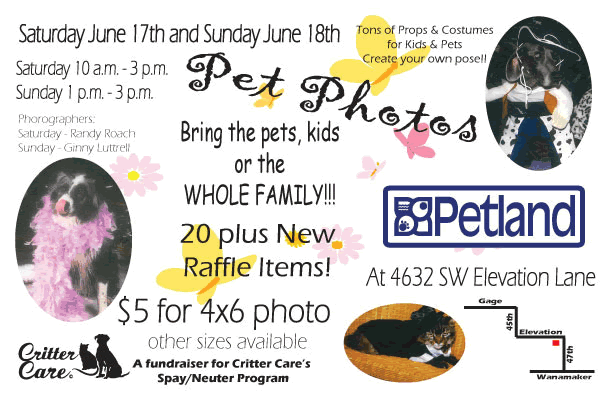 October 1, 2017
34th Annual Blessing of the Animals
Sunday, October 2nd, 1 pm
Big Shelter House - Gage Park (next to Zoo entrance, 10th & Gage, Topeka)
December 8 - 9, 2017
Get your pictures with Santa:
Saturday, December 8, 10 am - 5 pm
Sunday, December 9, 1 pm - 4 pm